This bathroom is on our ground floor, right off the entry. I really like having a bathroom on the first floor for guests. And for us.
There are no before pictures, because we haven't changed anything. Other than adding in our stuff.
This is the floral picture that I rambled about in the post about the guest room. This was Uncle Dale's favorite picture. I love how it's size overtakes this small space.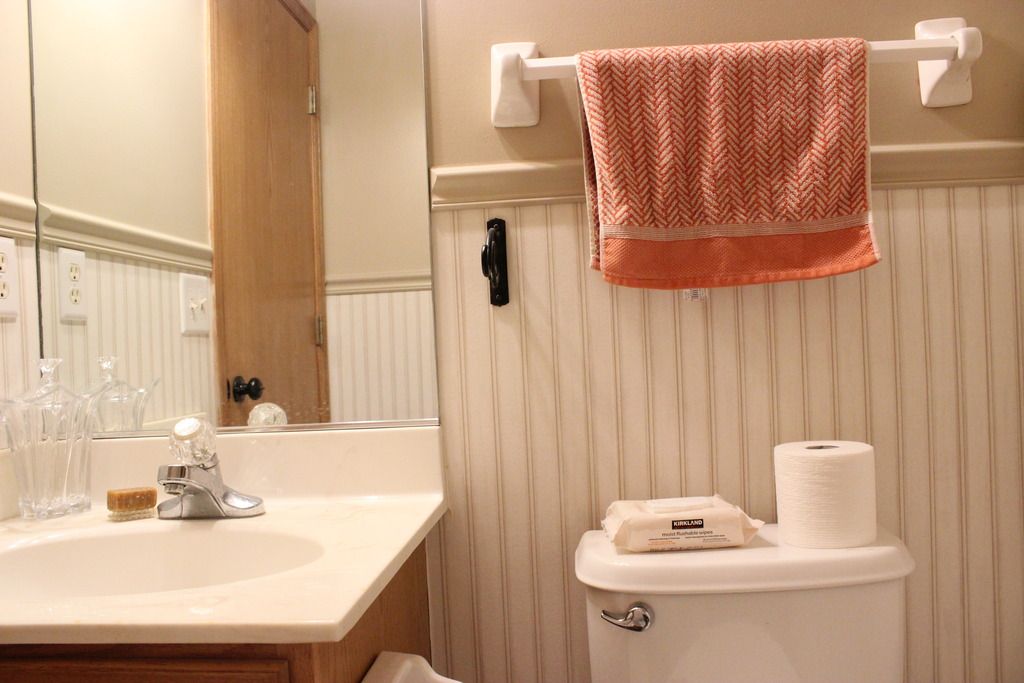 This room is really the most boring. I want to change out the towel rack and add a hand towel holder - I already have them - but this towel rack is held on with some kind of crazy glue. I don't want to take it off and potentially rip a big hole in my wall. I need to figure this out, cause all of the ugly, townhouse builders grade (yes, that is a level or two BELOW regular builders grade) towel racks in our house are like this.
I have fun plans for this bathroom, that will likely never come to being. This room isn't offensive. Course it isn't anything special either. If I get to it, I would replace the vanity (it's so small it'd be cheap. I've found some I like on craiglist for under $100). Replace the towel rack (cause if I'm redoing the room, might as well rip that puppy off and deal with the repercussions). Remove the mid-level molding and the fake WALLPAPER wainscoting. And paint the whole thing a deep, dusty blue. Hmmm...maybe I will take this on, sounds so lovely.
Stay tuned for the master bath later this week.